Hole #4 "Road"
437 yards, 426 yards, 334 yards, par 4 (women's par is 5/4)
Charles Banks in 1925: "The fourth hole has a water carry of 132 yards on the line of play. Play to the left of the line of play lengthens the hole and shortens water carry, while a shot to the right of the line of play not only does the opposite to the left play but also puts the ball in danger from a second arm of the lake, for play to the right of the line of play is upon a peninsula. The approach to the green requires a long, up-hill second shot compelling distance, height and hold due to the nature of the green, which is of the Road Hole of the St. Andrews (Old Course) type, wherein a pot bunker is tangent
to the line of play in front of the green and the left approach is lifted. The player may, by using different tees and varying then angle of the dog-leg, play the hole with the same distance as that of the original hole"
Ben Crenshaw has stated the 4th is "a perfect use of water as a driving hazard," and indeed from the regular and back tees, you face your third water carry in four holes. The lake cuts deeply into the fairway in the landing area to catch the longer hitters, who must aim left of center. The second shot with a wood or long iron is to a slightly elevated green protected by a deep pot bunker on the right front side. The thin strip bunkering around the back and left of the green suggests the road at the 17th hole of St. Andrews.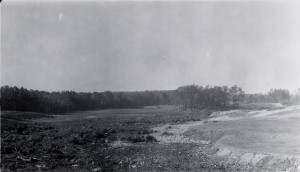 1925 construction of the fourth hole
[Note that the pond had yet to be excavated and filled in]
Scott Ramsay has recently opened up the hole by removing trees to the right and left and restoring its "line of charm." By that, Scott means to charm the player into a line of more risk than he might normally take in trying to shorten the distance by challenging the pond on the right. His clearing has created a second line of charm in restoring the vista from the tee box all the way up to the 8th tee.
Tommy Armour once chose this hole as 9th in his selection of the most difficult holes in the world, and George Pepper ranked it as one of the 18 best (fresh) water holes in the world. A bench dedicated to Sid Kalison sits on the long tee at 4. He joined the course through the Eli Club, after World War II. He was an avid low handicap golfer until he developed a debilitating neurological illness and had to stop playing in 1990. A highlight of his golfing life was accompanying David Paterson, Bill Beinecke, and others on a golfing holiday to Ireland in 1981. Joe Sullivan's ashes were spread by his twin brothers along the side of the fairway after he died in 1977.
A present-day view looking up the #4 fairway
Looking from the #5 tees toward the "island" green in the autumn